My baby girl just celebrated her third-month birthday. I was expecting that she would be rolling over, just like what she did when she was just two months old. But alas, it seemed she's a bit lazy. My mama said that all of us, my siblings and I, rolled over at exactly three months. With my baby, the reason for not rolling over since she started to roll over then was her pillow. I am not sure though. Anyway, other than that, I thank God for making her a brilliant baby. She knows how to respond, she gazes with an intelligent look, she's such a darling, she squeals when happy, she doesn't cry that much (such a very kind baby!), she is both beauty and brains (PB!).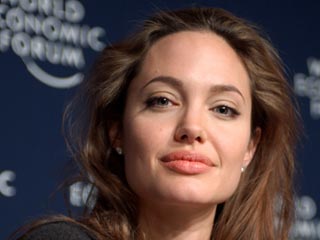 On her third month birthday, her godmother commented that baby's lips look like that of angelina jolie's. Whoa! Is it a dream come true? In fact, her godmother's the second person to make such a comment. When I was pregnant with my baby, I kept on looking at Angelina's photos. Effective!? Whoa. I hope her lips would really look like Angelina. When my baby was just days old, I also thought that there was something noticeable on baby's lower lip but I just wasn't sure. I thought that the slight mark on the center of her lips was just brought about by the nipple of her feeding bottle. But alas, that mark couldn't just go away. What brought me to blog about this was when I saw Angie's picture just a moment ago.
When I still wasn't sure that my baby's lips look like that of Angie, I had been criticizing her mouth for it looks like that of my MIL. hahaha. 😀 Peace. Now I am very happy that baby's lips are, indeed, resembling that of Angie's. (claps)…
On baby's 3rd month and 1 day, I started giving her green barley 1ml. Thanks, God, she's been liking the taste. There's no wastage unlike when she was still taking tiki-tiki. I am waiting for the other vitamins of my baby (which my sister sent via express mail). I asked my sis to buy cherifer growth factor, and other 3 vitamins. Well, I really want my baby to grow taller than us, her parents. hehe.
My husband and I were both proud parents of our baby when we went to the clinic to have her BCG. We saw other kids of the same age of baby, and, her size isn't too smallish, we guess. (PB!). Thanks God. Although there were some babies who really were so big. Nevertheless, what we both thought (last night) was that our baby has the most intelligent look among all the babies there (4-5 babies). Our baby was just the one who kept on looking around the clinic. The other babies were simply contented on being cradled or being carried by their parents. Pwera bati!