This blog post isn't a story about my kid. I cannot imagine myself not playing with her.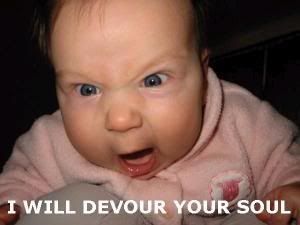 My hubby and I went to a nearby meat market last night. There we saw a handsome kid of four years, perhaps, or less. He was silently smiling in his chair. His dad and mom were with him. A few minutes after, I saw him playing with his dad, softly tickling his dad on his arm – an innocent playfulness armed with love from an innocent, loving child. The boy laughed with a heartfelt laugh. I heard him squealed as he repeatedly touched his daddy's arm. Then, whoof! I heard that loud snap, along with the loud cry of the boy. His daddy spanked him because of his playfulness, because he was softly tickling his daddy, because he was happy. My heart bled. How can this daddy be so cruel to his son? I didn't understand what the daddy was saying because he was speaking in another language, but, the way I saw and heard how happy the child was when he "played to", not "played with" his dad, I was pretty sure that he was just trying to catch some time with his daddy. When the boy cried, he slumped his back on the chair. His mother got his arm and kissed it. Was the mother's kiss enough to ease the pain from the slapping that he got from his dad? Maybe yes, maybe no – for he didn't stop crying. He wept for a few more seconds, and finally got silent. He just sat there. When his daddy saw him stopped crying, the dad turned his face towards his son, and said a few things. The boy made face. I wasn't sure what he said, but his daddy slapped him again. This time, I guess it was on his forehead. DAMN. The boy cried again. Sigh. What a cruel way to discipline children! The boy's mother got up and changed her seat. She seated beside me. The boy got up as well and changed his seat, away from his father. Good.
On our way back home, I told my husband about what I just witnessed. Then, in an instant, I remembered the blog article I read from Bo Sanchez, "What kind of daddy do you have?". Good thing, I have a very kind, loving, dad, and yes, I can give him all the best characteristics of what a good daddy is. Good thing, too, that my hubby is a good daddy to our baby. As I went through the blog article in my mind, I asked myself, what kind of daddy was the daddy I witnessed in that meat market? Mean. Cruel. Tyrant. Unhappy. Strict in the wrong sense. I was thinking then that playing with his kid isn't a fun thing for him. I didn't see him smile when his boy smiled because of happiness in tickling him. You know how a boy of four tickles – not that hard, but it was full of love and affection.
What kind of parents does that boy have? I didn't see any indication of giving him the right values. Why? His mother, who was seated next to me, caught my attention by poking the bag on my legs. How stupid, right? Initially, we were seated side by side. I got up and looked at how the meat was cut. I was standing, not in front of her, but not to the point that I was covering her eyes from seeing the meat! Later did I know that the man was cutting the meat that she was buying. But was it enough guarantee that she should poke me with her bag and not said the words, "excuse me"? Hah. People of little minds.
Anyway, as I went to bed last night, the images of the crying boy, and his parents occupied my mind. It's a reminder for me to always consider and put into my mind what my baby feels every now and then. My baby's happiness is important to me. A happy baby is a confident, smart person in her/his adult life. Why do some parents fail to give them that bit of happiness and playfulness? I know how stress might affect them in dealing with their kids. Sometimes we have to set aside what we are currently feeling when we are dealing with our kids. The way we treat them in their childhood goes two ways: either good or bad upbringing.
I read this wonderful parenting article at Yahoo! Shine, "How children turn out when parents listen to their feelings", and it's a must read for parents out there. The article led me to two interesting sites for parents and kids: the BLUEPIXO, where parents connect with one another while kids play, and the Hand-in-Hand Parenting, where it "helps parents acquire the skills they need to build and rebuild close connections with their children.