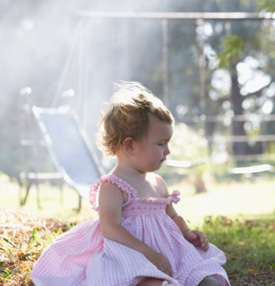 I recently read an article from the Web about the importance of Vitamin D in babies. It says that when a baby lacks the sufficient amount of Vitamin D, oftentimes it results to excessive bowling of legs, slow growth, breathing and heart problems. Another article says that lack of Vitamin D increases the risk of rickets, bone problems, heart disease, cholesterol issues, and diabetes.
I have been very worried because until now I think my baby's legs aren't straight yet. I wonder if we are doing the right massage, if it's just because of her diaper, or if she is getting the right amount of Vitamin D (we don't go out here in this country because it's too hot outside – sunshine is a source of Vitamin D). I will feed her with sweet potato three times a week since it's also a good source of Vitamin D.
I wouldn't be so worried if at least my baby is drinking 27 to 30 ounces of formula milk.  I am closely monitoring her milk intake. So far she's drinking 4 ounces per feeding; 2 ounces added to her usual feeding. In her age, she must be drinking 6 ounces. I understand that she has a small stomach so she prefers frequent small feedings. What is important is that her bowel movement is OK and her diaper is frequently wet, an indication that she's feeding well these days. Thank God.